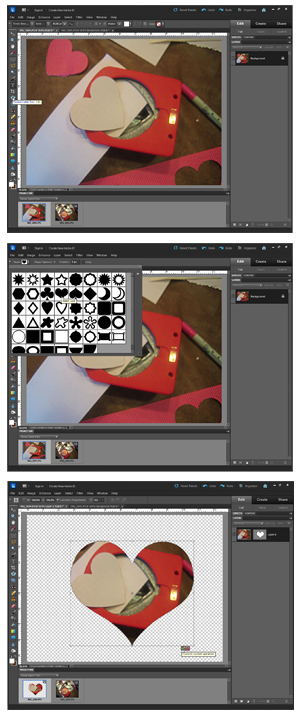 There are several ways to cut photos or digital papers into a shape, similar to using a punch on a traditional photo. This particular method (there are other methods) uses the Cookie Cutter tool (Q) which is a tool that is often times overlooked.
To use the Cookie Cutter tool:
Select the Cookie Cutter tool (Q) from the Toolbar.

From the Options bar, click on the Shape drop down list and choose a shape. From the Shape Options drop down list choose an option.

Open a photo or digital paper (File>Open). Make a copy of the image (File>Duplicate) so that you don't save over your original image in error.

Click and drag the shape on your image.

Check the checkmark to confirm the crop.
After cutting the image into a shape use the Move tool (V) to drag it onto your project.
Note: You can also drag the paper/photo onto your project first and then crop it with the Cookie Cutter tool. When using this method be sure that the Crop option on the Option bar is unchecked or it will crop all of the layers.
This technique works the same for PSE11 and older versions.
To download this tip as a printable pdf:
Photoshop Elements 7-10 click here.
Photoshop Elements 11 click here.
Don't forget our 30% off sale now through March 2nd at 11:59 p.m. Pacific Time. Use Coupon Code: 30OFF