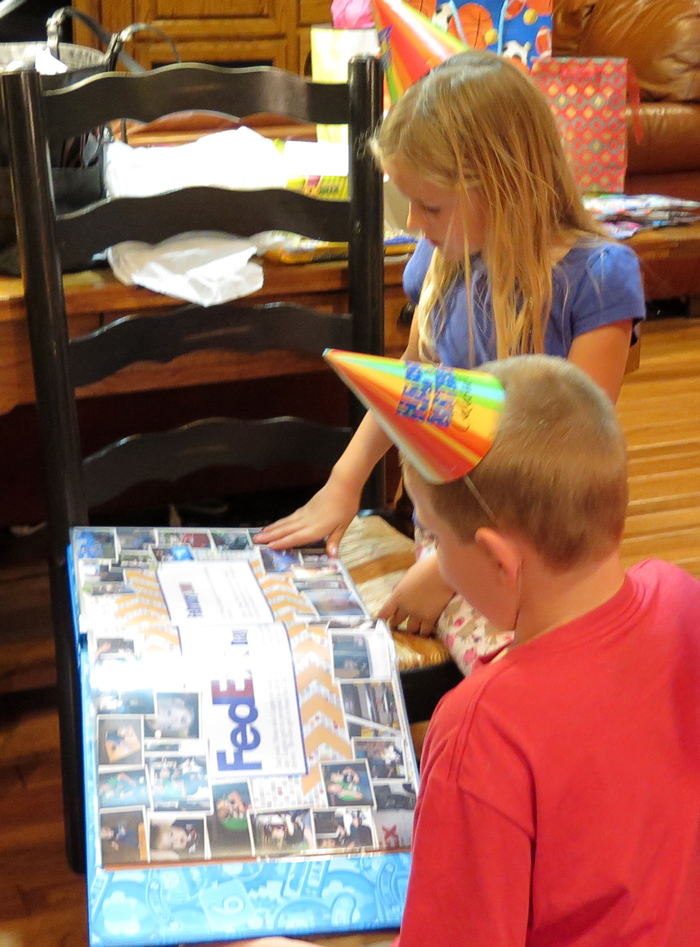 You know the answer as well as I do, but for some reason we all buy into the idea that our scrapbook pages just aren't good enough. We want perfection. Two weeks ago I invited you to take a survey and many of you did (you still can). The survey results only confirmed what I thought they would.
YOU are your worst critic. Many of you wrote about being intimidated by the pages of your friends or complete strangers. You told me how the pages in galleries intimidate you to the point of being frozen. I can relate! Can you imagine how I feel about posting a page anywhere…after all I'm "The Digital Scrapbook Teacher", I'm an expert, my pages should be better than anyone's.
This is a picture of my Grandson Logan (many of you have watched him grow up). This was his 9th birthday last March. I finally put a deadline on myself (nothing else works for me) to get his scrapbook done through age three. He was surprised when he opened it and spent quite a lot of time looking at it along with his sister. Later in the evening he got upset because he said he didn't remember most of what was in the book. I felt terrible; if only I had gotten it done sooner, there would have been a different outcome. The reality is that I waited a long time to create the PERFECT first page of the album. I wanted every page to be fabulous. Finally I decided that simple and done was better than gallery perfect and not done. While I was waiting around to create the PERFECT layout stories and events were forgotten.
A few things I've learned for you to think about:
Who is your audience? In my humble opinion if you are scrapbooking to impress people in online galleries that you've never personally met you're scrapbooking for the wrong reason (please let me know if you disagree).
A perfectionist rarely finishes anything.
In the survey you talked about your frustration with the Photoshop Elements learning curve.  How much time have you invested? Did you give it your best shot? Did you give up after a five minute YouTube video even though you had great intentions? Did you take a class and then open the Photoshop Elements six months later?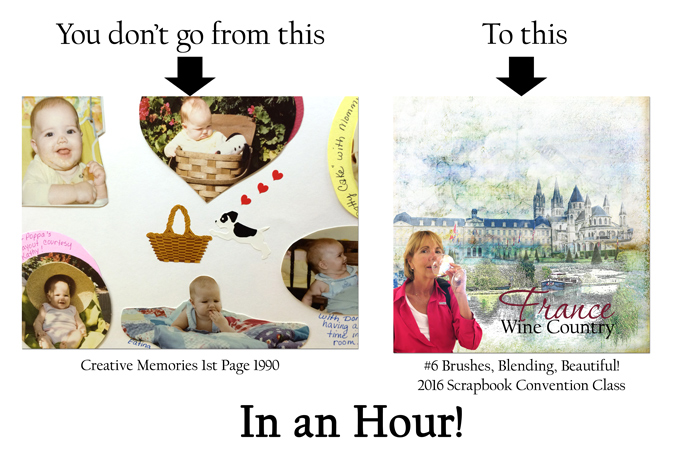 These scrapbook pages are a world apart. Like I said my style is usually simple and done. So why in 2010 did I start teaching complicated classes like the one above? Because my students requested it. Do the students who have taken my classes like this in the past scrapbook like this all the time? Probably not.
Are your expectations unrealistic? When I first started out I thought all of my pages should look like the one above (on the right!), which was not realistic. I found this quote which I think is PERFECT!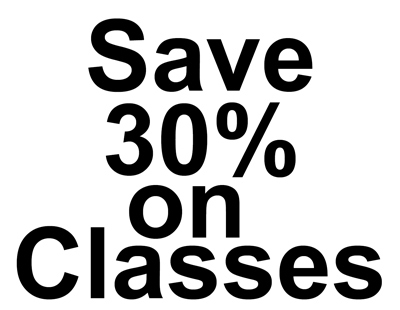 If you are interested in challenging yourself and making progress I have included a coupon in this week's newsletter for 30% off all classes on my website. My classes go very in-depth and have very detailed written and video tutorials. You keep the videos; you don't have to watch them online. You can play them on your computer or iPad and stop and start them when you need to. You can follow along with the written tutorial as you watch the matching videos.
This coupon applies to all classes available on my website (downloadable or shipped). It does not apply to classes that are taught at Scrapbook Shows. I'd love to have you in a hands-on class at a Scrapbook Show too!
Make a comment on the blog why you need a class and I will pick a winner next Tuesday (March 15 @ 5:00 CA time). If you've already purchased a class I will refund your money.
I will share more of the survey results in coming weeks but for now I better stop my rant and show you how to do something cool on Photoshop Elements.
---
Adjusting Lighting with Levels
Scrapbooking whether it's traditional or digital starts with photos. One of the things I have noticed is that people will spend a lot of time and money on their scrapbook pages, but their photos are terrible. This is one quick trick on how to lighten up a photo. This is a beginner tip, try it and see how easy it is.
Open the photo in Photoshop Elements (File>Open and locate the file on your computer).
From the top Menu bar click on Enhance, from the drop down list choose Adjust Lighting, and then choose Levels.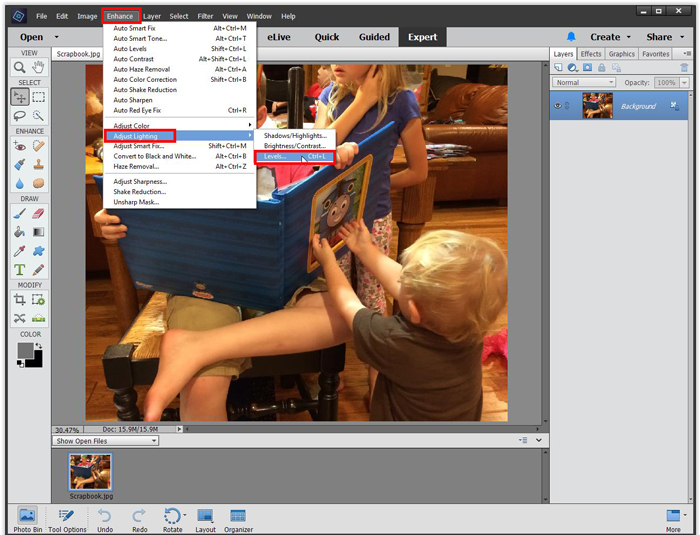 If you have never used this feature before the dialog box will appear in the middle of your photo, click and drag the box out of your way.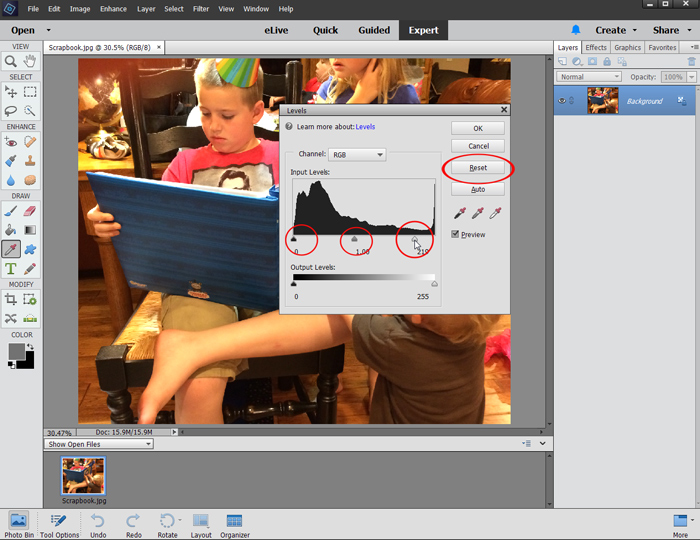 Move the black and white sliders inward. Think of the histogram as a mountain. If the black and white sliders touch where the mountain starts and ends, it will generally improve the photo. If you don't like the results, tap the Reset button.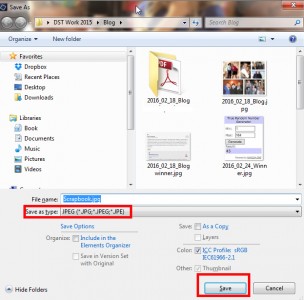 Once the photo is to your liking you can save it (File>Save As). For the file name write something like edited or lightened so that you do not save over the original. Save as type: JPEG. Click the Save button.
When the JPEG Options dialog box appears choose Quality 10, Format Option Baseline.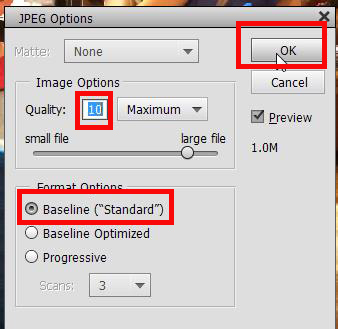 Close the image when you are done with it File>Close.
If you need to boost your confidence and conquer the Photoshop Elements learning curve this quickie tutorial will help you get started.
---
Congratulations Petra you are the winner!