I introduced Pocket Pages at our Scrapbook Conventions this year and I have to admit it's been a little difficult to explain what they are and why they are different than regular templates. Pocket Pages are templates that can be either digital or traditional products.
Originally Pocket Pages were introduced as a traditional product. These pages consisted of a plastic page protector that had pockets for photos and other items. Instead of creating a 12 x 12 scrapbook page you printed your photos and purchased journal cards that fit into the pockets.
Some of the the traditional traditional pocket page products available:
Shortly after the traditional products appeared digital designers began offering their versions of pocket pages. As we all know, the beauty of digital products is that can be used multiple times and modified easily.
Attributes of a Pocket Page include:
Simple Design
Specific Sizes of Template Openings like 3 x 4, 4 x 6, etc.
Journal Cards Available to Fit the Template Openings
Easily Rotated to Change Design
Why Our Pocket Pages are the Best:
Price-Our regular price for 50 – 12 x 12 templates (25 – 24 x 12) is 16.99 (download) which works out to $.34 each ….yes that's 3 for $1. Wait for a sale or buy a Mega set and they're even cheaper.
We include detailed video and written tutorials with each Pocket Page set.
We include a Calendar Journal Card kit for the current year with each Pocket Page set.
All Pocket Pages are pre-tagged (including the number of template openings) for the Photoshop Elements Organizer to save you time. My tags file is available for purchase here, it is also included with my book – Photoshop Elements Basics & Beyond.
Our pieces are linked so that you don't accidentally bump a piece out of alignment. If you want to move the piece all you do is unlink it as shown in our instructions.
Our pieces are numbered so they are easily found in the Layers Panel.
We list the size on the template piece so that you can easily find the correct size journal card to use.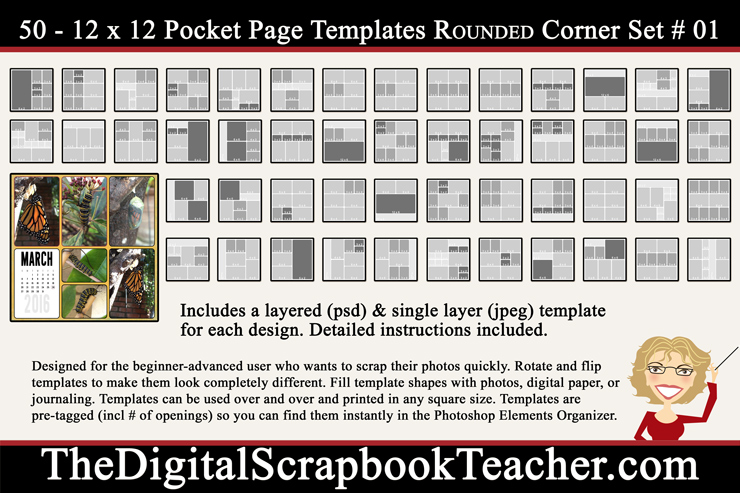 Each Pocket Page Template Set (#1, #2, #3, #4, #5, #6) is basically the same design but comes in the following formats:
12 x 12 Rounded Corners
12 x 12 Square Corners
24 x 12 Rounded Corners
24 x 12 Square Corners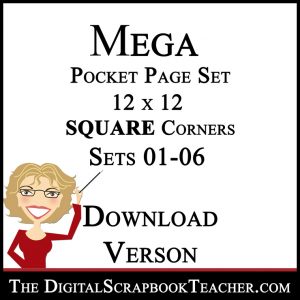 You may purchase the set as a download or on a CD that is shipped to you (additional shipping charges apply). To save even more, buy one of our Mega sets!
Even though I'm 100% sold on digital scrapbooking, sometimes you might want to use the traditional pocket pages because:
You have lots of printed photos that aren't available in digital format and don't want to scan them.
Some of the reasons the traditional pocket pages might not work for you:
Your photos don't always fit the pocket page layout. You have 4 horizontal and 3 vertical printed photos you want to use on the page and your pocket page doesn't. Digital pocket pages allow you to easily make adjustments. Check out our Pocket Page Extender Templates (included free on our Mega Pocket Page) for even more options.
You would like to adjust the size of your photo, as we all know you can't adjust a paper photo like you can with a digital one.
You run out of journal cards to fit your pages and don't want to have to buy a complete new set. Digital journal cards can be used as many times as you want and are available in an endless array of designs on the web. Our Basics Paper Kits also include Journal Cards.
You don't like all of the printed journal cards in the set you purchased. With digital journal cards you can change the color, etc.
*Please note that items marked with an asterisk * indicate that I am a member of their affiliate program and will earn a small commission to support this blog if you make a purchase.