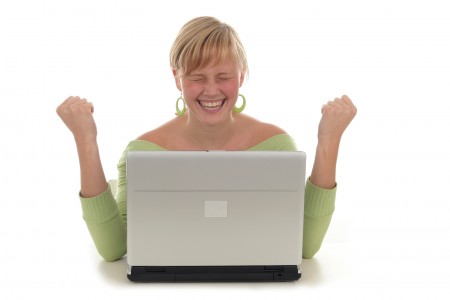 It was my first time teaching a hands-on class at a scrapbook convention. I was nervous to say the least! Everyone had told me it was next to impossible to do this (power cords, electrical outlets, projectors…oh my!). Yes, I had done something like this before in an adult school.  I was a volunteer and they were my friends. When I screwed up it was OK. So in the beginning I only lectured and demonstrated at the conventions. Deep down I knew this wasn't the way to go. I kept thinking that I would have killed for a hands-on class when I was first starting out.
I can still remember the first time I heard it.  I had just showed the class how to match the color of their title to the exact color of the paper we were using to build a scrapbook page.  I heard the gasp…then I saw her shake her friend's shoulder in excitement. I can remember that kind of feeling myself. Right then I knew all of the finagling to bring the class to fruition had paid off.
I started traditional scrapbooking with plain cardstock, Zig markers, and die cuts (yes, I know I'm dating myself). I was making a family scrapbook and books for each of my three children. Many times the pages were exactly the same for each book. I was drowning, I wasn't having fun.
My OMG! student was no different than I was. Every time I learned something really cool, (usually at 2 a.m.) I wanted to call and share it with someone. Trouble was…nobody else was doing it quite yet, but now they are.
So….that's why I'm back….I miss the OMG and the friends like you I've made along the way!
Check in with me next week and I'll share what I've been up to and more of what I'm getting into.
---
Digital Scrapbooking Classes & Photo Editing Schedule
Come to class with a friend, or better yet, come to class and make a friend. We are signed up at these shows to teach classes and exhibit (please note we are on the waiting list for 3 shows) :
---
New in the Store
Newsletter subscribers check your email for a 25% off coupon good until 2/14 (Sunday, Valentine's Day).
To sign up for our newsletter and receive a 25% off coupon click here.
Special thanks to Joanna Miriam Photography.